We're Getting Mutants in the MCU - The Loop
Play Sound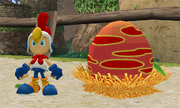 Egg animals are partners that can be hatched out of eggs found throughout Morning Land.
There are a total of 16 regular animal companions that can be hatched provided the player is playing a level in which the egg can be found. There are 8 secret companions that can only be hatched upon collecting a certain amount of coins. These secret companions are all contained within a similarly designed silver egg stamped with the Sonic Team logo. Each animal companion has an elemental power and unique attack that can be used to defeat crows and enemies.
Eggs can be grown by rolling them over fruit bubbles in order to fill the egg meter displayed in the bottom right of the players screen. Some eggs have favourite fruits that will make them grow much faster, and some eggs are generally easier to grow than others. Once the egg has a full meter it will glow white and shine, indicating it is ready to hatch. By pressing R on the controller, Billy will crow like a rooster to summon the animal out of its egg. Once hatched, Billy must interact with the animal to befriend it. Once the animal has joined Billy's team, he can command it to perform powerful attacks or climb on its back and ride it.
Normal Eggs
| Name | Element | Description | Egg | Picture |
| --- | --- | --- | --- | --- |
| Cipher | Fire | Powers of fire and passion. | | |
| Clippen | Water | Powers of water and life. | | |
| Recky | Lightning | Has the power of lightning. | | |
| Richie | Ice | Powers of ice and illusions. | | |
| Peliwan | Wind | Renowned scholar of the wind. | | |
| Runny | Steel | Powers of steel and karate. | | |
| Rabbish | Light | Moves at the speed of light. | | |
| Rikol | Fire | Can jump high and uses fire. | | |
| Kaboot | Water | An amphibious martial artist. | | |
| Datch | Wind | Glides through the air. | | |
| Glarin | Fire | A low-flying, deadly hunter. | | |
| Boskus | Steel | A hot-headed fighter. | | |
| Oritta | Ice | A deadly, ninja-like fighter. | | |
| Biboo | Wind | A whimsical animal. | | |
| Super Clippen | Water | It has the power of the rainbow. | | |
| Super Recky | Lightning | It has the power of the rainbow. | | |
Sonic Eggs
| Name | Element | Description | Egg | Picture |
| --- | --- | --- | --- | --- |
| Sonic | | Sonic from Sonic DX. | | |
| Tails | | Tails from Sonic DX. | | |
| Knuckles | | Knuckles from Sonic DX. | | |
| Chao | | Chao are born from eggs, too. | | |
| Rappy | | So cute, yet so fast. | | |
| Kapu Kapu | | Where are the Chu Chus? | | |
| NiGHTS | | NiGHTS Into Dreams... | | |
| Amigo | | Viva Samba! Viva Amigo! | | |