Music Popped Out of the Egg

Front Cover

Released

6 November 2003

Label

Wave Master Entertainment

Length

1:13:01

Arranged By

Shige Kawagoe

Translated By

Kan Hashimoto

Vocals

Yukari Fresh

Words By, Music By

Mariko Nanba, Tomoya Ohtani
Music Popped Out of the Egg is the officially released soundtrack for the music of Billy Hatcher and the Giant Egg. It contains 28 tracks and one secret track that plays at the end of the CD.
On August 4th, 2020, the OST was released digitally onto various digital music platforms such as Spotify, Apple Music, and others.
Track list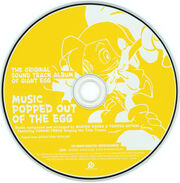 Chant This Charm ~Theme of Giant Egg~ (5:20)
Lesson E.G.G! (0:36)
G.I.A.N.T.E.G.G! ~Opening Theme~ (3:30)
The Beginning of Adventure (1:45)
Tumbling Xylophone (1:59)
Take Upper Fruit! (1:56)
Passionate & Silent Sea (1:50)
Let's Go Easy (2:30)
Bossa Nova of Briny Air (2:00)
Rumbling Blues (1:38)
Bony Dinosaur Dance (2:07)
Volcanic Orchestra (1:47)
Bang! Bang! Big Hornes Explosion (5:36)
Lullaby of Snow Mountain (2:00)
Sound of Fanfare (3:05)
Pinball-Like Echo (2:00)
Odd March (2:09)
Pop a Parade (3:10)
A Jack-in-the-Box! (2:27)
Head for the Top (1:47)
Sandstorm Sitar (2:20)
Afternoon Desert (2:16)
Legendary Egg (2:38)
Bossy Crow (2:10)
Billy's Courage (3:51)
Thanks for the Peaceful Today (2:26)
A Charm (0:26)
Chant This Charm ~Theme of Giant Egg~ Instrumental (5:28)
Hidden Track (2:00)
Trivia
Odd March is actually a remix of the track Child's Song from the 1995 Sega 32X game Knuckles' Chaotix.